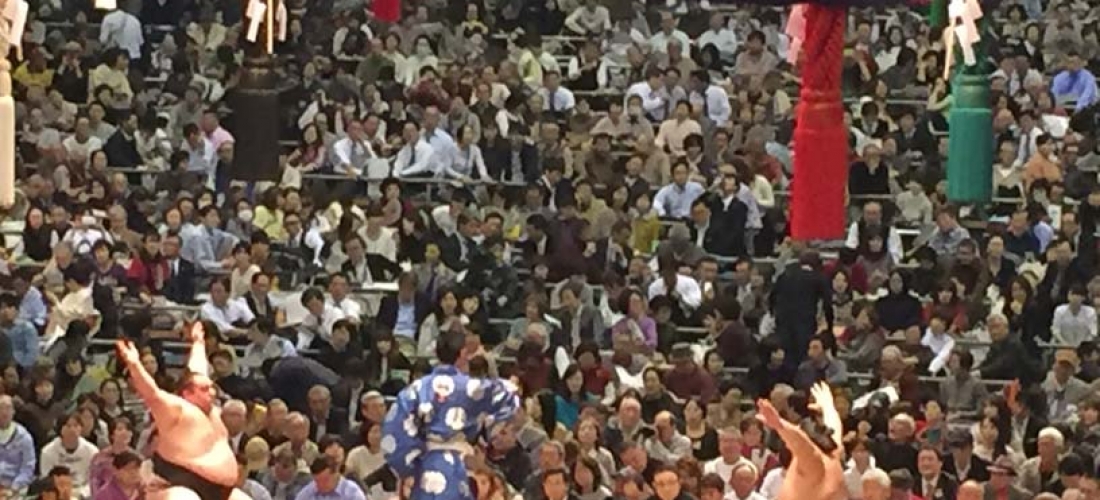 Sumo Bodymaker Colosseum Review Hospitality & Sport ticket
The deal
Sportz Guru made it to the Far East where we visited one of the most noble and mysterious sports in the world: the elusive Sumo! A once in a lifetime experience that gave us some very good insights in this thrilling sport. Let the tournament begin! Sumo Bodymaker Colosseum Review Sport Hospitality Ticket.
Rating
Atmosphere & Entertainment
Overall: 7,4
Atmosphere & Entertainment: 9,5
F&B: 6,0
Seating & Facilities: 8,0
Price: 7,0
Category
Sport: Sumo
League: Grand Tournament
Location
Country: Japan
State: Osaka Prefecture
City: Osaka
Stadium
Osaka Prefectural Gymnasium is an indoor sporting arena that hosts various international and domestic sports meets and events located in Namba, Osaka, Japan. It first opened in 1952 and the current building was constructed in 1987. It is the venue of a professional sumo tournament (honbasho) held in March every year. The capacity of the arena is 8,000 people.
In March 2012, the arena was renamed Bodymaker Colosseum after the naming rights were sold to sports apparel company BB Sports for the next three years.
Review Hospitality Package & Sport Ticket
Hospitality Package
Hospitality Package: Box seats
Box seats for 4 guests
Pre-order food and drinks which a steward will bring to your box (pay in advance)
Hospitality Entrance
Here we do not need to elaborate as there is no hospitality entrance for box seat holders. There is only one entrance that serves as the main entrance for all ticket holders. As our tickets where bought via will call there was no one who greeted us except for a friendly computer☺.
Restaurant
Box seat holders were able to pre-order food and drinks that a steward brought to your box. We decided not to do this upfront so were able to have a stroll around the various dining options available. Please be aware that none of the food or drinks are included in a ticket for a box seats so it is all paid in cash at the food or drink stalls. Again, no distinction is made between regular ticket holders or box seat holders so every spectator can buy the same food and drinks that are located outside the main arena in the surrounding catacombs. Be prepared for beer, beer and beer as well as some delicious sushi and ramen noodles.
Business lounge
Although having bought box seats on which we will go into detail a bit further in our review, there is no hospitality package / business lounge included of which we are familiar with at other sporting events. You just get your box seats an that's it.
Seating
Sumo arenas, and also the Osaka Prefectural Gymnasium, are square buildings with all the action in dead center.  All seats have clear views. Arenas are divided into two sections:  Box Seats and Arena Seats.
The lower area is Box Seating, where you sit on mats and you generally must have at least four people per box.   Box Seating offers a seat cushion.  

Further, these Box Seats are tough to get.  Sumo sponsors most often take them before public sale.

The upper area is Arena Seating, where individual chair seats are used.
In our opinion the best experience to really encompass all the action of such a unique event in Japan, is to buy Box Seats. As we were with two persons in total and given the size of the Box Seats we bought the entire box (this was needed taking into account our weight size). Sumo Bodymaker Colosseum Review Sport Hospitality Ticket.
Good to know
A ticket provides entrance from 9Am until 6PM on the date of the tournament that you purchased the ticket for. The hot shot wrestlers enter the arena around 3PM and before that time the lower divisions compete. Be aware that food and drinks are cash only purchases so have ample cash money with you. There are no organized meet and greats with the sumo wrestlers so if you want to take a picture with them, wait for them in the catacombs after their matches or at the main entrance when they leave
Hotels & tickets
The following hotels are nearest to the stadium:
1. Fraser Residence Nankai Osaka
2. Grampus Inn Osaka
3. IL Cuore Namba
Do you want to go to Osaka Bodymaker Colosseum and enjoy this hospitality package? We can help you book this great package. Just send us an email with your request. We have also made it easy for you to book your hotel. Just click on the banner below and search direct for the city or hotel name you want to stay.
Find hotel
Get request for hospitality package
Making a reservation can be quite tricky in terms of planning. We can make it easy for you. Please email us your contact details, the country or club you want to go to and when you would like to go. We will then make a proposal for you.
More photo's & video's
Check out www.facebook.com/sportzguru for the complete photo album and www.youtube.com/sportzgurus for more video's.
Disclaimer: This is not a paid review and we haven't been asked to write this. All views and words are our own and have not been influenced by anyone else.